Sections
Image
Image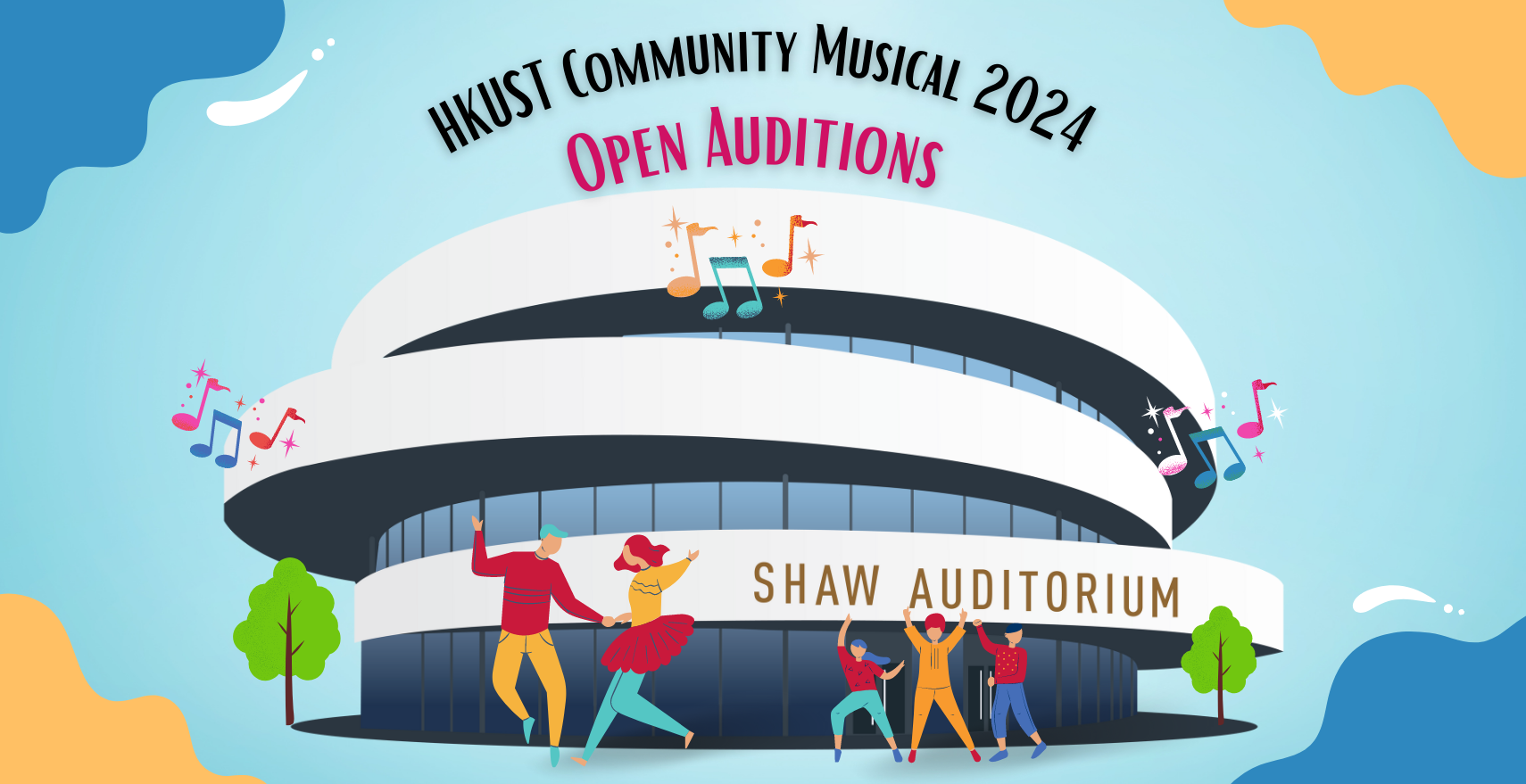 Text Area
Have you ever dreamed of performing live onstage, in a big auditorium? HKUST is offering an extraordinary opportunity for you to showcase your talent. Join us for an unforgettable musical journey that captivates your heart and ignites your imagination! Grab your chance now!
Container
Text Area
Open to HKUST Community including Students, Staff, Alumni, Campus Residents and Children
Adult Roles and Chorus
Junior Roles and Chorus (aged 8+)
Text Area
Date and Time:
September 23, 2023 (Sat) 10:30 – 15:00
September 30, 2023 (Sat) 10:30 – 15:00
October 2, 2023 (Mon) 10:00 – 13:00
October 2, 2023 (Mon) 14:00 – 18:00
* The applicants will be notified via email about the specific audition time, location and grouping details.
Location: HKUST
Container
Text Area
 Date & Time: 
March 23, 2024 (Sat) 19:30
March 24, 2024 (Sun) 15:00
Venue:
Main Hall, Shaw Auditorium, HKUST
Performed in English
* The title of the musical will be announced shortly. 
Rehearsal schedule (tentative)
Text Area
From November 2023 to March 2024*
Adult Cast: 19:00 – 22:00, every Tuesday and Thursday
Junior Cast: 10:00 – 13:00, every Saturday and Sunday
Locations: To be confirmed
*Rehearsals will not be arranged during Christmas and Chinese New Year holidays.
Text Area
The HKUST musical holds a significant place in the hearts of music and drama enthusiasts in the HKUST community.  It serves as a platform that brings together the creative talents of passionate students, dedicated staff, and accomplished alumni, resulting in the outstanding production of Broadway musicals in the past.
In 2021, the University introduced the awe-inspiring Shaw Auditorium, a state-of-the-art venue that has further elevated the performing arts scene at HKUST.  With this exciting development, the Shaw Auditorium Unit is proud to bring back the highly anticipated musical, with an expanded version: HKUST Community Musical, which promises an even more captivating and extraordinary experience at the Shaw Auditorium. This remarkable opportunity allows students, faculty, and the wider community to immerse themselves in the enchanting world of live theater, right at their doorsteps. March 2024 will witness the return of this grand event, as the HKUST Community Musical takes center stage within the familiar halls of our beloved university.  
Past Productions: Click Here 
Text Area
Email: SAmusical@ust.hk
Enquiry: 2358 5075